Easy Member Section
Members can now easily track downloads. Your account will hold your purchased audios in case you need to download again. 
Uncle Rick Audio Book Club
Uncle Rick makes it easy to build a digital audio library of trusted books. Monthly downloads can be copied to your device for easy access and listening. Below are frequently asked questions.
Frequently Asked Questions
& Terms of Use
If you can't find your answer here, just submit a question to our contact form by hitting the green support button. 
Here are some quick links around Uncle Rick Audios:
I just received my coupon by email after sign up, now what?
Your coupon is assigned to your email. Login to your account with the same email, go to the 'my coupons' on the left side. Click your coupon and it will apply it to your cart. Go to the shop and pick two audios of your choice, and checkout! That's it! Each month you'll receive a new coupon for two audios of your choice to download. 
How does the membership work?
Purchase the membership for $10.00. You will immediately receive a coupon for $30. You may use the coupon to purchase two $15 audios each month. This is a recurring membership and can be canceled or paused at anytime in your account. All links to everything you need are on your MY ACCOUNT page. Coupons are immediately applied when you click the link from the coupon email to login, which takes you to the MY ACCOUNT page.
Once you purchase your subscription, you will receive a subscription receipt with a $30 store coupon it looks like this:
Example Subscription Receipt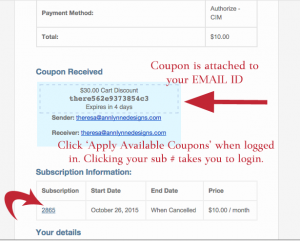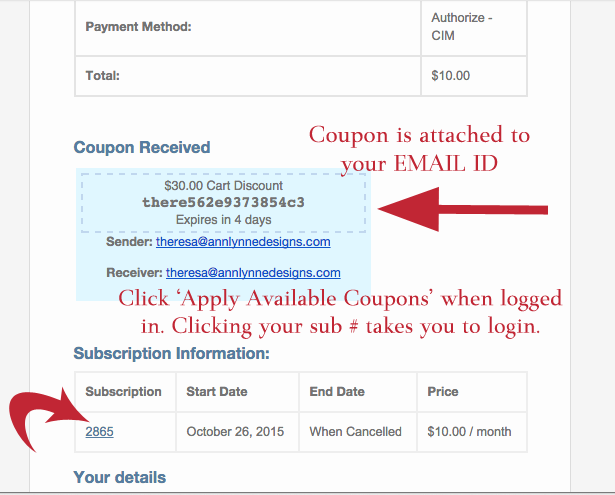 In the cart, you can click 'apply available coupons' and your coupon will auto apply if you haven't clicked from the coupon email. Checkout!
Do I need a membership to purchase audios?
No! You may purchase any audio at full price in the shop. However, if you're building an audio library, the Uncle Rick Audio membership will help you save money! You can download 2 audios each month, for $10.00. Regular audio prices are $15.00 each.
Can I buy a gift subscription?
Yes! It's simple to buy a gift subscription. When signing up for the club, simply choose, 'gift coupons to someone else'. This will give that person, via email, the coupons for the monthly subscription. The subscription is ongoing monthly until you cancel it. You may also email us and give us an end date for the subscription. Currently, the subscription with payment is not-transferrable, the receiver will need to sign up with payment information when your gift ends. We are working on making better gift options, and will update.
Please contact us if you have any questions. 
How does a gift subscription work?
You may choose on sign up to enter a gift recipients email. They will receive the coupons via email as a gift, you will be charged monthly. You may cancel at anytime, or email us and have us put in an end date for you. 
The recipient must register an account with the email used for the coupons under Member Login: https://www.unclerickaudios.com/my-account/
Once this is done, they may use their coupons in the shop.
Can I burn the audios to a CD?
Yes. You may burn them to a CD for personal use and ease of listening. Here is a good tutorial on how-to, however, if you Google how to do this, you'll find many tutorials that may suit your needs.
Will I get a reminder?
Your renewal email is your reminder. Please login as soon as you can and grab your products. However, we will send newsletters with announcements from the membership of on sale products or other bonuses available. This can also serve as a reminder!
Where is my member page?
Access your account page on My Account. You will be able to access your past downloads, subscriptions, payment methods and more. Bonus areas are also located in the sidebar of this page.
Is the membership recurring?
Yes. You may pause your account without time limit, or even cancel anytime. This is a risk-free subscription. 
Is there a free trial?
Yes! You may try the audio club out and receive a free trial. You will be charged in 30 days once you activate the trial. Coupons for the free trial are for non-sale audiobooks.
You may not use the coupons for anything other than the audiobooks. (You may not purchase a membership with the coupon.) Uncle Rick Audios reserves the right to remove any customer, without notice, that abuses any coupon or the free trial. Thank you for understanding.
I need to change my email or payment method.
This can be done on your account page. Remember that your coupons are attached to your email. You must change your email in every section, including the billing section. If you need assistance, just contact us. 
How can I cancel?
You may cancel inside of your account. You may also pause your membership.
I Stopped Getting Emails
Emails with renewals and coupons are recurring on the same day as you purchased. If you do not get your monthly email, please contact us with as many details as possible. Thank you!
I picked the wrong audio.
Contact us! This is a no-risk subscription. We are happy to credit your account to choose another whether you've picked the wrong one or simply aren't happy with your choice. 
MP3 On Demand vs. MP3 Downloading
You can download or listen within the browser to the free monthly audio, it opens in an audio player.  Want to download it?  Click here to see how!
Once you download any MP3 to your computer you can stream it to most devices, such as Alexa. Because this is a broad topic in technology, simply Google, "how to stream from my computer to [your device].
Can I use iTunes/iPods with the MP3's?
Yes, many customers use iTunes and iPods for their audios.  YOU MUST download the audios to your computer (MAC or PC) and then upload to another device if you do not want to listen from your computer. The audios are not 'On Demand MP3s' (except the monthly free audio).
Technology is so broad it's impossible to cover every type of device available. When you Google the how-to, include your computer type and your device type.  
There are many tutorials available online when depending on whether it's an iOs, (MAC or iPhone) or Android, (PC or phone), so, include terms that apply to your devices.
There are many, many tutorials, even videos, online to help you with your particular model and method of listening to the audios.
If you can't find your answer after searching as described, contact us. 
Can I pause my membership?
Yes! If you want to pause your subscription, you can also do this without canceling. You will only need to reactivate and pick up where you left off when you're ready! There is no time-frame on pausing, take as long as you'd like. Click your subscription on your account page My Account.  Look for the available options on the right.

Just want to cancel? You may do so on your account page. If we can do anything to help you and keep you as a member, just contact us!
Please Note: If you reactivate your account and cancel or pause again within a short time frame, your account will be removed permanently. Thank you for understanding.