Learn history, character, and scripture!
Your choice of two audiobooks a month, a $30 value!
No questions – love your audio or we'll replace or refund!
This "Old Country Boy" is one of the best story tellers you will ever find!!
I can call him old cause I have known he and his great family for over 40 years. He is packed full of what kids need to inspire, encourage and point in the right direction in their lives!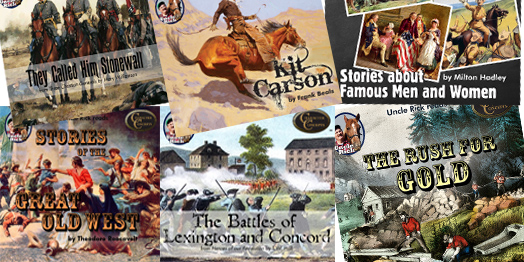 Get the most value monthly with the audio club!  This is THE PLACE to find great audio books and storytelling. Here are the great old books, the books I wish I had read when I was a boy. Read on to discover this excellent opportunity!
"These radio dramas have challenged my boys so much. These stories are lives of real men and women who have lead lives that inspire them to be men of character. I was not aware of what a strong impact these people would have on my boys, but their play and their conversation have been challenged to imitate these individuals who do hard things."
"My children love the stories! They make history so interesting. (My son says it is because of the details that most textbooks don't include.) Uncle Rick is easy to listen to; we love his accents and explanations."
"Our entire family has been blessed by the Uncle Rick Audios. Especially loved are the readings from the Bible. Our children can get extra time and meditation in The Word as they drift off to sleep at night. Listening helps to calm their hearts and minds as they settle down for bed. They are also very useful for long car rides."
Get notified about the newest products and stories!